Round-Robin Mailer 22.0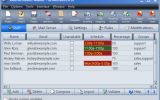 Does your company have a sales staff? Do you have leads arriving by email? If so, you probably need a solution that distributes those leads promptly, reliably, and fairly to your staff. Round-Robin Mailer is designed to do exactly that. It connects directly to a POP3/IMAP4 mail server, reads all email, and forwards each one to a member of the staff in a rotating fashion.
---
Developer:
Gammadyne Corporation
---
Category:
Communications::E-Mail List Management
---
Platform:
Win7 x32, Win7 x64, WinServer, WinVista, WinVista x64, WinXP
---
Gammadyne Mailer 60.0
Gammadyne Mailer is essential Windows software for automating a business's email marketing. It can send personalized email campaigns as well as process virtually any type of incoming email. Carefully crafted to achieve the highest delivery rates, it allows you to reach more of your audience and generate more sales. And its ability to track opens and clicks provides an abundance of marketing knowledge.
---
Developer:
Gammadyne Corporation
---
Category:
Communications::E-Mail List Management
---
Platform:
Win7 x32, Win7 x64, WinServer, WinVista, WinVista x64, WinXP
---