Matches: 32 / Page 4 of 4
Split Outlook Store 4.19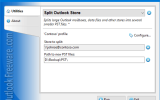 Free and easy splits Outlook storages into smaller parts using PST files. Just specify storage, target folder for PST files, each file's maximum size, and the tool will divide your mailbox or any other storage into several parts. It is also possible to split your storages by year. Old ANSI and new Unicode file formats are supported for PST files created.
---
Developer:
Relief Software
---
Category:
Communications::Other E-Mail Tools
---
Platform:
Win7 x32, Win7 x64, WinServer, WinVista, WinVista x64, WinXP, Windows 8, Windows 10, Win
---
Split PST File for Outlook 4.19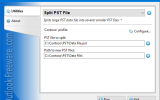 This free tool splits large Outlook PST data files into smaller ones. After new PSTs are created, source data files remain unchanged. Attach the resulting personal folders to the Outlook profile or save them on disk. Split PST using different criteria of your choice, retaining the original data and folder structure.
---
Developer:
Relief Software
---
Category:
Communications::Other E-Mail Tools
---
Platform:
Win7 x32, Win7 x64, WinServer, WinVista, WinVista x64, WinXP, Windows 8, Windows 10, Win
---
Matches: 32 / Page 4 of 4