IDAutomation OCR Font Advantage Package 14.07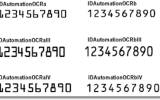 IDAutomation's OCR-A and OCR-B fonts were created from the latest ANSI and ISO specifications and include the Euro symbol. TrueType, OpenType, PCL laserjet soft fonts and PostScript font versions are included for support of Windows, Pocket PC, Macintosh, UNIX, and Linux. We have also included additional characters in the OCR fonts to comply with OCR-B1 Eurobanking and OCR-A1 Eurobanking specifications. The OCR A font also complies with ECMA-11.
---
Developer:
IDAutomation.com, Inc.
---
Category:
Desktop::Cursors & Fonts
---
Platform:
Win2000, WinXP, Win7 x32, Win7 x64, Windows 8, Windows 10, WinServer, WinOther, WinVista
---
MICR E13B Match font 6.1.0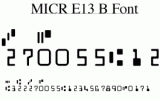 This MICR E13B font (also often called MICR font, or E-13B font) is necessary to print numbers and special symbols at the bottom of checks so they can be recognized by the OCR/magnetic ink reader systems used by banks in North America (US and Canada) and other countries such as UK and Malta. In the past, these fonts where supplied as cartridges. Thanks to modern technology, these fonts are now available for Windows, Macintosh, OS/2, Linux.
---
Developer:
Match Software
---
Category:
Desktop::Cursors & Fonts
---
Platform:
Win2000, WinXP, Win7 x32, Win7 x64, Windows 8, Windows 10, WinServer, WinOther, WinVista
---