Jade Diabetes Insulin Dose Calculator 2.5.2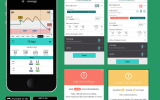 Insulin Dose Calculation with Jade makes managing diabetes far easier and dramatically less random. Jade simplifies blood glucose management and insulin dosing with tracking of insulin on board, variable ratios/targets throughout the day, live sharing between multiple devices. It is designed for people with Type 1 diabetes and those using insulin. PREDICT HYPOS AND BGLs HOURS AHEAD. Regulated device recommended by JDRF
---
Category:
Home & Hobby::Health & Nutrition
---
Platform:
iPhone, iPod, iPad, iTouch, iOS
---
Healthcare Simulations 6.87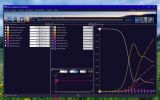 Healthcare Simulation allows you to load, save, run, create and modify various Simulation Models by Dynamic Applications, centered around the topic of Home, Family, Health, Virus Infections, and healthy food creation. The built-in Formula System allows to define any number of Input Parameters and Target Formula. All calculations are fully Transparent through interactive ToolTips, explaining all Formula in live calculation.
---
Developer:
Dynamic Applications
---
Category:
Home & Hobby::Health & Nutrition
---
Platform:
Win2000, WinXP, Win7 x32, Win7 x64, Windows 8, Windows 10, WinServer, WinOther, WinVista
---
WalkAway 1.0.86.0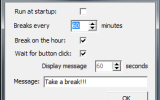 WalkAway is a free Windows application that reminds you to take a break from your computer. Use it to stretch, close your eyes, or to just get up, walk away and get some fresh air. With simple options you can determine how often to take a break, including the option to break on the hour plus a custom reminder message. By covering the entire screen with your custom message, you will never miss your WalkAway break.
---
Developer:
Offeman Enterprises
---
Category:
Home & Hobby::Health & Nutrition
---
Platform:
Win2000, WinXP, Win7 x32, Win7 x64, Windows 8, Windows 10, WinServer, WinOther, WinVista
---